Course duration from 2 hours - 16 hours.
We offer a range of courses which are very practical and hands on for young people to learn some important lifesaving skills.
From Scouts, Guides, Brownies, Cygnets, Cadets to youth clubs and after schools clubs we can provide appropriate first aid training.
Courses can vary from 2 hours to 16 hours depending on your specific group's needs.
On successful completion candidates will receive a certificate which is valid for 3 years.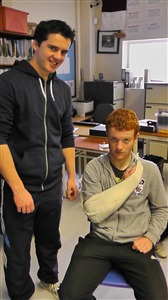 Possible course topics
Dealing with a situation
Casualty communication
Primary and secondary survey
Dealing with an unconscious casualty
Breathing and non-breathing casualty
Bleeding and shock
Heart attacks

Stroke
Seizures
Diabetes

Head injury
Asthma
Anaphylactic shock and the Epi-pen
Burns
Fractures
Soft tissue injuries
Defibrillator training